Published time: 26 Mar, 2017 18:49
Thousands of Australians have been forced to evacuate in preparation for the arrival of tropical cyclone Debbie, the worst of its kind to hit Queensland in six years.
Cyclone Debbie has been swelling off the coast of Queensland for the last few days, under the watchful eye of meteorologists who predict it will have a "very destructive core" when it makes landfall early Tuesday morning.
"The very destructive core of Tropical Cyclone Debbie is currently expected to cross the coast between Townsville and Proserpine on Tuesday morning, most likely as a category four tropical cyclone, with wind gusts up to 260km per hour near the center," the Bureau of Meteorology said Sunday.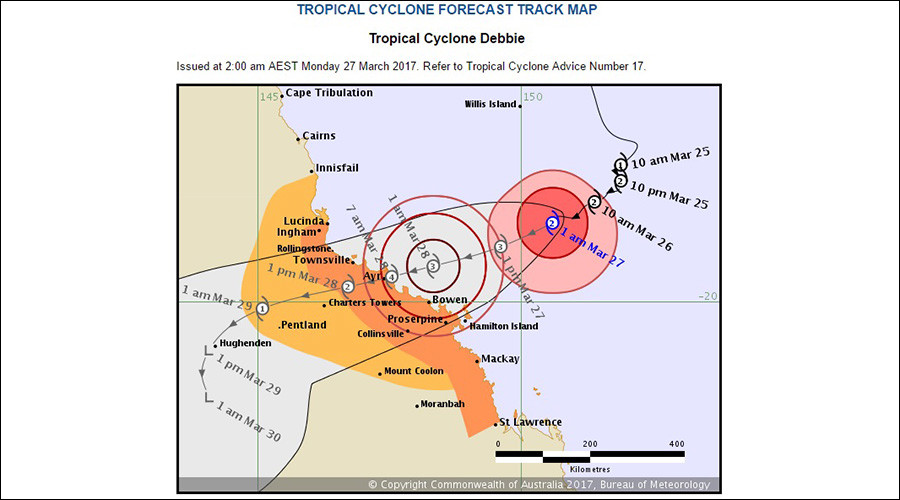 READ MORE: Arctic ice pack the size of Florida melted after 'extreme cyclone' (VIDEO)
The people of Townsville, Proserpine and The Whitsundays, an island off the coast popular with tourists, were all ordered to evacuate on Sunday, as Debbie is expected to start wreaking havoc as soon as Monday.
"People need to make arrangements to leave the area as soon as possible. Police will be in the area from 6am tomorrow (Monday) to ensure everyone relocates," Queensland Police warned in a statement. "An ongoing police presence will continue in the area throughout this weather event."
Police warned that the Townsville area will start experiencing high winds earlier than expected, with gusts of up to 100 kilometers an hour set to hit the city as early as 4pm Monday.
Townsville Local Disaster Management Group advises dangerous winds expected to arrive earlier. https://goo.gl/aGs0Rk 

Dangerous winds expected to arrive earlier – Queensland Police News

*** Sharing on behalf of the Townsville Local Disaster Management Group *** Media release                                     26.03.17  Time of release:   8.20pm  Dangerous winds expected to arrive…

mypolice.qld.gov.au
This was from my hotel room yesterday (Sun) 3pm on Daydream Is. It's too dark to see anything now but storm is surging #CycloneDebbie
Residents have been bracing for the natural disaster by clearing out supermarkets and clogging highways as the make their way to safety.
#Townsville supermarket low on bottled water, bread, instant noodles, gaffer tape & broccoli (OK, that may be a coincidence) #CycloneDebbie
Shoppers prepare as #CycloneDebbie bears towards Townsville. Hurricane winds and torrential rain expected @abcnews
READ MORE: A day in the life: Satellite images show power of Typhoon Souledor (VIDEO)
Some Townsville residents are refusing to evacuate despite being in the cyclone's direct path, an area which could see a four-meter surge of water, reports the Australian. Police and State Emergency Service officers visited homes in Alba Beach, south of Townsville, on Sunday to personally inform residents of the forced evacuation and get their signatures on a disclaimer agreement.
I'm glad no one is panicking about this Cyclone hitting Townsville #CycloneDebbie
Looks like the message about water supplies is getting through in North Ward. #cyclonedebbie
More than 1,000 emergency staff and the Australian Defence Force have been deployed to the region to assist with preparations for the storm.
"Queensland hasn't seen a coastal crossing for a couple of years now since Marcia or Nathan in 2015 but I think you could probably say that Debbie's the most significant tropical cyclone since Yasi [in 2011]," said Bureau of Meteorology deputy regional director Bruce Gunn.
"Not so much because of its intensity … mostly because of its size and extent. It's quite a sizeable system."