Published time: 20 Apr, 2017 20:32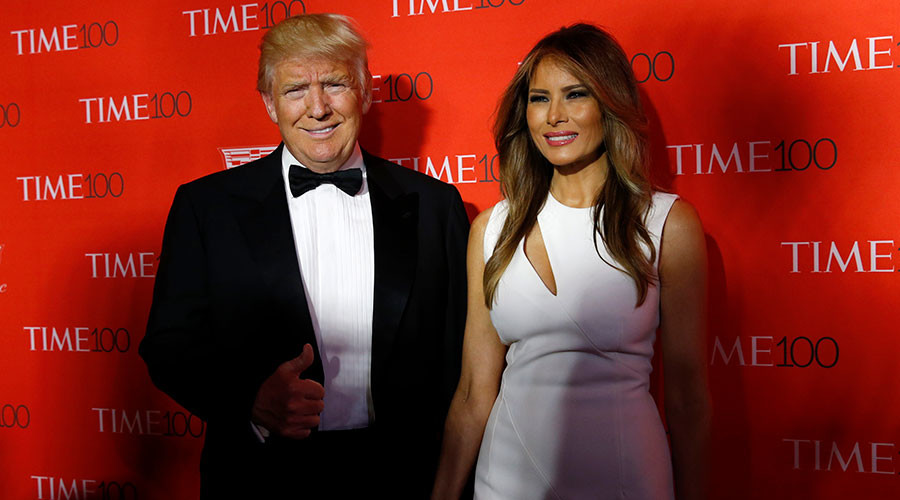 Time magazine has published its annual list of 100 most influential people in the world, ranging from world leaders like Vladimir Putin and Donald Trump to celebrities and social justice activists.
First published in 1999, the list is subdivided into categories like Pioneers, Artists, Leaders, Icons and Titans. Former US President Barack Obama holds the record for being included most often – 11 times.
Current US President Donald Trump is listed in the Leaders category, with Speaker of the House Paul Ryan (R-Wisconsin) praising him as the man who "completely rewrote the rules of politics and reset the course of this country."
Ryan was notably less enthusiastic about Trump during the presidential campaign, and the GOP frontrunner returned the favor by speaking well of Ryan's primary challenger, Paul Nehlen.
Trump's chief strategist, Stephen K. Bannon, also made the Leaders category, with Time deputy managing editor Michael Duffy describing the former Breitbart executive as "nursing an angry, nationalist, America-first flame" for the first 75 days of the new administration, until Trump found it "too disruptive."
The Pioneers category included Trump's daughter Ivanka Trump and her husband Jared Kushner, both of whom currently serve as White House advisers. Former top US diplomat Henry Kissinger wrote about Kushner's "daunting role flying close to the sun," while media magnate Rupert Murdoch's ex-wife Wendi praised Ivanka as "entrepreneur and a devoted wife and mother."
Former Pentagon and CIA chief Robert Gates praised Trump's Defense Secretary James "Jim" Mattis as someone who "will do what is necessary to protect the country, and he will care for our men and women in uniform as if they were his own children."
Trump's chief of staff, Reince Priebus, received a kind word or two from current Chicago, Illinois Mayor Rahm Emanuel, who held the "all-consuming, thankless job" during Obama's first term.
On the other side of the aisle, Senate Minority Leader Chuck Schumer (D-New York) was praised by his predecessor Harry Reid (D-Nevada), while newly minted Senator Kamala Harris (D-California) penned a paean to her persistent colleague Sen. Elizabeth Warren (D-Massachusetts). Congressman John Lewis (D-Georgia) was recognized as a civil rights icon.
The newly elected Democratic National Committee chair Tom Perez was endorsed by former party chair and Hillary Clinton running mate Sen. Tim Kaine (D-Virginia). Clinton did not make the list, however, nor did her rival for the nomination, Sen. Bernie Sanders (I-Vermont), despite his continued influence in Democratic politics.
WikiLeaks co-founder Julian Assange was also recognized in the Leaders category, although his profile revolved around the accusations of WikiLeaks being a part of the "Russian hacking" alleged by the Democrats and even some members of the Trump administration.
Russian President Vladimir Putin's entry was penned by former Soviet leader Mikhail Gorbachev, who used it to argue that that "Russia is ready for political competition, a real multi-party system, fair elections and regular rotation of government."
Gorbachev has previously credited Putin with "saving Russia" from disintegration and criticized the West for spreading democracy "like coffee in bags."
The Pope made the list, as did the leaders of India, the UK, Turkey, China, Colombia, Thailand and the Philippines. The Icons category notably included Philippine Senator Leila de Lima, a fierce critic of President Rodrigo Duterte who called him a "murderous psychopath." De Lima's entry was written by former US ambassador to the UN Samantha Power.
Another Icon was former San Francisco 49s quarterback Colin Kaepernick, who "boldly and courageously confronted perceived inequalities in our social-justice system" by kneeling in protest at National Football League (NFL) games during the US national anthem, according to his entry.
The list also included Jeanette Vizguerra, an immigration reform advocate who sought refuge in a Denver, Colorado church, and Gavin Grimm, a transgender Virginia teen who sued his school over bathroom access. Actor George Takei praised Bob Ferguson, the Washington state attorney general who crusaded for gay rights in 2013 and led the charge against Trump's travel ban earlier this year.
The inclusion of Linda Sarsour, one of the organizers of the January 21 Women's March, drew criticism due to her comments about female critics of Islam involving genital mutilation.
Share on Facebook
Share on Twitter
N. KOREA THREATENS TO 'REDUCE US TO ASHES' WITH 'SUPER-MIGHTY PRE-EMPTIVE STRIKE'
UN DOESN'T SEND EXPERTS TO IDLIB 'CHEMICAL INCIDENT' SITE AS WEST & US ARE BLOCKING IT – ASSAD
Of course it's another disgusting false flag lie, they (the US and allies) know that, and that's why they are blocking it. Because they don't want the world finding out the truth.
RUSSIA QUESTIONS WATCHDOG'S SWIFT IDENTIFICATION OF SARIN IN SYRIA CHEMICAL INCIDENT
Poor Russian trying to get a fair investigation and that will never happened MH17 showed how much the west cares about the truth, they only care about their version of reality.
LEADERSHIP AT LAST? CORBYN ATTACKS 'RIGGED SYSTEM' IN 1ST ELECTION CAMPAIGN SPEECH
GENERAL MOTORS ACCUSES VENEZUELA OF ILLEGALLY SEIZING ITS CAR PLANT
Go Maduro!! Long live Venezuela! Respect from NATO occupied northern Yugoslavia.
POLICE OFFICER KILLED, ANOTHER INJURED IN CHAMPS-ELYSEES SHOOTING IN PARIS – REPORT (WATCH LIVE)
BREXIT ROULETTE: EUROPEAN PAPERS CALL MAY'S SNAP ELECTION SHREWD BUT A 'GAMBLE'
Tories are miles ahead in the polls, this is nothing but a very well played political maneuver by Theresa May to secure a majority Government, removing all roadblocks Labour / SNP have tried to put in place. Corbyn is a dreamer, he wants us to live in la la land. The Tories have the best stance on BREXIT.
VIOLENT SCENES ERUPT ON STREETS AS VENEZUELANS STAGE MASSIVE ANTI-MADURO MARCH (VIDEOS, PHOTOS)
another country destroyed by socialism
NO FACTS CONFIRMING GAY MEN ABUSED IN CHECHNYA – KREMLIN
Do not fall for the "woe is the gay man" propaganda. Homosexuals are some of the most riches people in the world, and some of the craftiest criminals walking the face of the earth.
COLOGNE IMPOSES NO-FLY ZONE AS 50,000 LEFT-WING ACTIVISTS PLAN TO BLOCK AFD CONGRESS
Stop calling them far right they are ordinary citizens,trying to protect their nation from the very people who want to close down debate,yes the lefty snowflakes.what is wrong with these idiotic lefties can't they see what's happening to their nation.
ST. PETERSBURG METRO TERRORIST ATTACK FINANCED FROM TURKEY – INVESTIGATORS
The mastermind is a Hungarian-American investor, business magnate, and philanthropist.
'FISH FINGER' STANDS FOR ELECTION AGAINST LIB DEM LEADER TIM FARRON
Now it's oFISHial, Tim should be afraid, very afraid.
AUSTRALIAN GOVT AIMS TO ADD 'VALUES' SECTION TO CITIZENSHIP TEST, TIGHTEN ENGLISH REQUIREMENTS
"tighten English requirements" That's too bad for Americans.
ILLEGAL IMMIGRANTS STORM TOWN HALL IN PARIS SUBURB, 14 REPORTED INJURED
"Town hall staff told Le Parisien that they hadn't noticed the demonstrators' arrival until it was "too late." Much like the French aren't going to notice that France has been Islamified, until it's too late. Vote Le Penn or get learning the Koran!