Actor argues US president is going to sink himself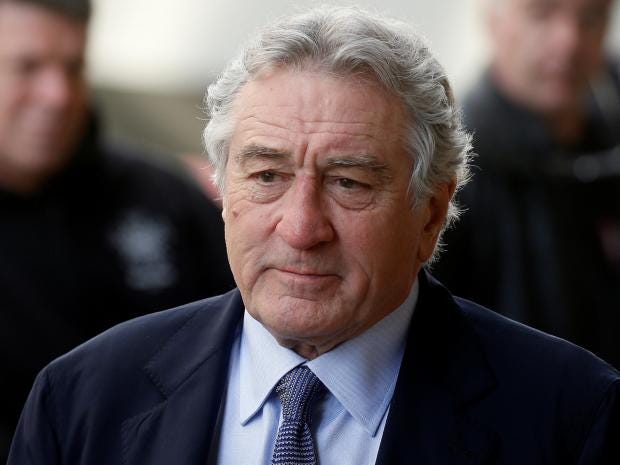 Robert De Niro has been unequivocally scathing in his criticism of Donald Trump. From telling the world he wanted to punch him in the face weeks before the election to then comparing Mr Trump's victory to the 9/11 attacks, the Oscar-winning actor has been an unwavering critic of the US president.
De Niro has again ripped into President Trump and branded the billionaire property tycoon a "flat-out blatant racist". The 74-year-old argued it was fortunate the president lacked intelligence otherwise he would be even more dangerous.
"If he was smart, he'd be even more dangerous. He's dangerous as it is," the actor told Deadline.
"He's terrible, and a flat-out blatant racist and doubling down on that, and it's good that he does because he's going to sink himself."
De Niro said other entertainers should speak out against President Trump at the Emmy Awards next month.
"Even at the Emmys it should be a kind of theme in some way – however, you know, balanced it could be so we're not making it all about that," he said. "But at this point, we're at a crisis in this country with this fool, who never should have gotten into the position that he's in."
When De Niro was sat in front of a camera for what was intended to be a non-partisan video encouraging people to vote in the 2016 presidential election, he veered massively off-piste and launched into a withering tirade about President Trump.
In the end, his acerbic response did not make the final cut of the #voteyourfuture campaign video.
"He's so blatantly stupid," De Niro told the camera. "He's a punk, he's a dog, he's a pig […] a mutt who […] doesn't do his homework, doesn't care. He's an idiot. Colin Powell said it best: He's a national disaster. He's an embarrassment to this country."
"It makes me so angry that this country has gotten to this point that this fool, this bozo, has wound up where he has. He talks how he wants to punch people in the face?" he continued.
"Well, I'd like to punch him in the face. This is somebody that we want for president? I don't think so. What I care about is the direction of this country, and what I'm very, very worried about is that it might go in the wrong direction with someone like Donald Trump. If you care about your future, vote for it."
Ten months later President Trump is in the White House and it goes without saying that De Niro's fears about what direction he would lead the country in have come to fruition.
While De Niro was forced to do a U-turn on his initial declaration of wanting to punch Trump immediately after he was voted in, the actor has continued to offer damning indictments of President Trump since he has arrived in the White House.
Courtesy, INDEPENDENT