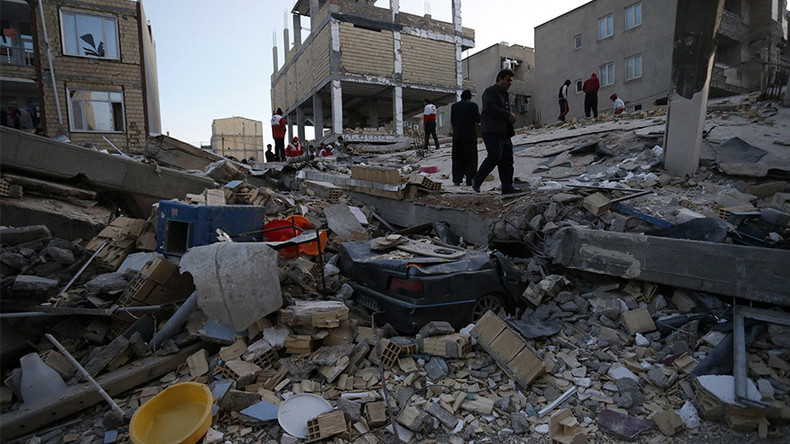 Dozens of people have been killed and hundreds injured in Iran and Iraq, according to early estimates by local officials, after a powerful 7.3 magnitude earthquake struck the region Sunday.
13 November 2017

06:52 GMT

New data provided by Tasnim now indicates that at least 211 people have been killed and over 2,500 injured in the earthquake in Iran, according to officials from Kermanshah province.

05:24 GMT

The death toll from the quake in Iran has risen to 164, with over 1,600 injured, Tasnim News Agency reports, citing Behnam Saeedi, a spokesman from the Iranian Disaster Management Organization.

04:29 GMT

People in quake-affected areas must refrain from entering damaged buildings, Iranian authorities have warned.

امروز صبح آوار بجاماندە پس از زلزلە دیشب در #کرمانشاە و #سرپل ذھاب.
تاکنون ١٦٤ نفر کشتە و بیشتر از ١٥٠٠ مجروح .

04:16 GMT

The Supreme Leader of Iran, Ayatollah Khamenei, conveyed his condolences to the Iranian people, assuring that all civilian and military organization are helping with the rescue effort, ISNA reported.

04:03 GMT

تصویری دلخراش از برخی قربانیان #زلزله ۷.۳ ریشتری شب گذشته در قصرشیرین

تلاش های مردمی برای آواربرداری در سرپل ذهاب در استان کرمانشاه
97 نفر در #زلزله دیشب در این شهر کشته شدند

02:21 GMT

The deputy governor of Kermanshah province said his region faces a "shortage of physicians," saying, that those who needed surgery will have to be transferred to the regional capital, ILNA reported.

02:01 GMT

Three days of general mourning has been announced in Iran's Kermanshah province.

01:57 GMT

The deputy director of Iran's crisis management unit said at least 141 people have been killed and some 866 injured since the earthquake struck, Iranian news outlets report.

01:54 GMT

A medical student from Erbil, studying in Iraqi Kurdistan, recalled that she and her classmates were "scared" when the quake struck.

"Everyone is scared… Some of our friends fainted because of the earthquake," she said, standing outside the dorms."We are all scared to go in. The whole building was trembling out of the ordinary," the student told RT's Ruptly video agency.
Courtesy: RT