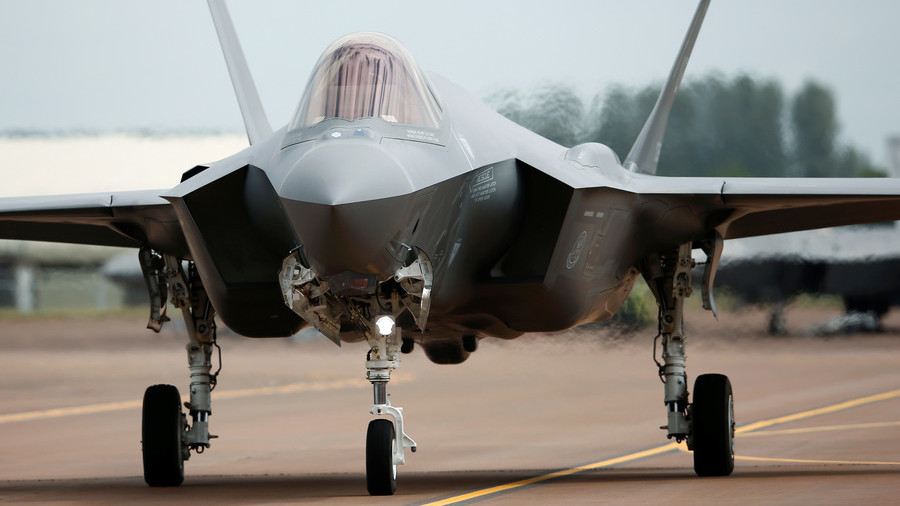 Japan has commissioned the first of its new F-35A stealth fighter jets at a military base in the north of the country amid ongoing regional tension over North Korea's missile testing.
READ MORE: American provocateur: Why North Korea is going ballistic over missiles
The Air Self Defence Force (ASDF) plans to add another nine of the radar-evading planes to its fleet from April, according to the Japan Times. "The deployment of the high-performance F-35 aircraft is significant for Japan's security at a time when neighboring countries have been quickly building up their air force capabilities in recent years," said Itsunori Onodera, Japanese Minister of Defense.
"Brand new beautiful equipment is on its way, the best you've ever had by far" – Trump https://on.rt.com/8uly 

Troops, toys & threats: Trump signs $700bn military funding bill — RT US News

We unpack what's inside the $700 billion National Defense Authorization Act (NDAA), signed by President Donald Trump on Tuesday.

rt.com
The move to deploy the jet to the Misawa Air Base in the Aurora Prefecture comes amid increased tensions in the region following North Korea's latest series of nuclear and ballistic missile tests. Japan hopes to increase its overall number of F-35As to 42 in the coming years as the country seeks to replace its fleet of outdated F-4 models. Each unit costs around $95million, according to the manufacturer Lockheed Martin.
READ MORE: F-35s back in the air, despite lingering mystery of oxygen system failures
The US Air Force grounded dozens of F-35s after five pilots complained of dizziness and tingling in their extremities following flights out of Luke Air Force Base in Glendale, Arizona. The pilots were diagnosed with hypoxia, but despite failing to identify the malfunction responsible for the condition the USAF cleared the F-35s to fly after just 11 days.
Another F-35A jet aka the future of US military aviation catches fire during exercise http://on.rt.com/7q66 
The F-35 remains a popular jet for countries looking to bolster their defenses. In December, the Joongang Ilbo newspaper reported that South Korea's defense chiefs plan to buy an additional 20 F-35A aircraft from the US. This follows the country's previous purchase of 40 stealth jets from Lockheed Martin in 2014.
Overall, the US and its allies plan to buy more than 3,100 F-35s in the coming years as part of a near $400 billion program to replace outdated aircraft, according to Reuters.
Courtesy: RT